You may have heard about the brand Staud in recent years due to its 'it girl' status. Countless celebrities and influencers have worn STAUD clothing and handbags, and I recently decided to buy into the hype. Then, I fell fast and hard for the classic, yet quirky silhouettes of STAUD handbags.
STAUD Nic Bag
My first STAUD purchase was the Nic Bag in black. The bag isn't vegan friendly, but it's absolutely gorgeous. Like most other STAUD handbags, the Nic Bag comes with a drawstring at the top, suede lining, and a removable crossbody strap. The bag looks small-to-medium on the outside, but I was able to fit pretty much all of my travel necessities in the bag when I went to Paris.
The Nic bag comes in a variety of styles, and I think the silhouette of the bag is timeless. It's lightweight enough to carry with your hands or to use the crossbody strap with. It passed my movie snack test (and even held my water bottle), so this bag is definitely a keeper. For reference, I can fit my DSLR camera body and lens, wallet, keys, lip products, and a couple of snacks for the day. They typically retail for $395, but the Nic bag goes on sale from time to time.
STAUD Frida Leather & PVC tote bag
Another STAUD bag silhouette that caught my eye was the Frida leather & PVC tote bag. The Shirley bag is arguably one of STAUD's most popular items, but I wanted a bag that added some personality to one of the most duped bags of 2018; that's how I ended up with the Frida tote bag. The croc embossed fabric really elevated the PVC, and once I found the bag on sale, it was a wrap.
Just like the Nic bag, the Frida tote bag is roomier than it looks. I can fit my DSLR camera body and lens, wallet, keys, and lip products for the day. It doesn't come with a crossbody strap or anything, but I haven't gotten sick of carrying it around yet. The croc embossed pouch is removable, which really means you get a clutch and two different bags by purchasing this tote. Retail price is $225, but good deals can be found during holiday sales.
STAUD Edie Bag
My most recent STAUD purchase is the Edie Bag in Saddle. The shape is more quirky than classic, but the leather is absolutely beautiful and it looks like it'll hold up well over the years. I purchased my Edie Bag on sale and unfortunately, they were all out of crossbody straps, but you know what? I don't even mind! I thought I would be annoyed having to carry this bag around, but it's been more fun than anything.
Just like my other STAUD handbags, the Edie Bag is super spacious. I can usually fit my DSLR (camera body), lens, wallet, keys, lip products, and either a pair of sunglasses or my portable fan. The only thing I have to worry about is the drawstring not poking out too much from the top.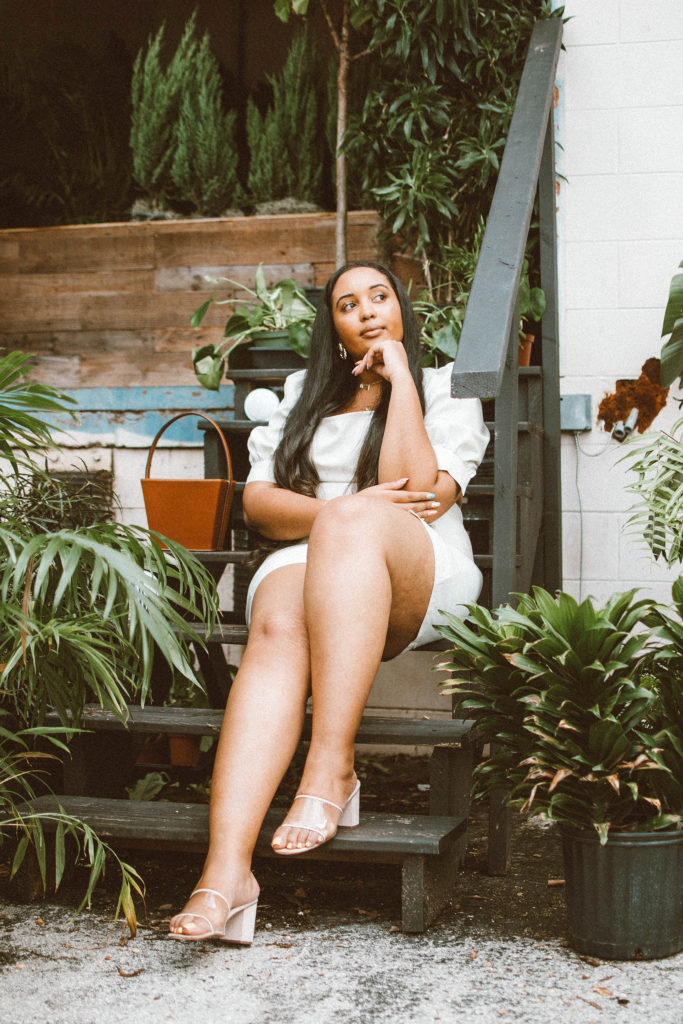 All in all, I am very content with my mini STAUD collection. I can see myself using all three bags way after they're no longer 'in style.' At the contemporary designer price range, I have no regrets on how much I spent for each bag vs cost per wear for each bag. If you're considering purchasing a STAUD bag, I suggest starting off with a neutral; you'll have it forever! The sale prices of STAUD handbags are also amazing, you just have to shop around at different (authorized) retailers such as Shopbop, Net-A-Porter, and MATCHESFASHION.
Let me know your experience with STAUD handbags in the comments below!